7 Night Mediterranean
on MSC Grandiosa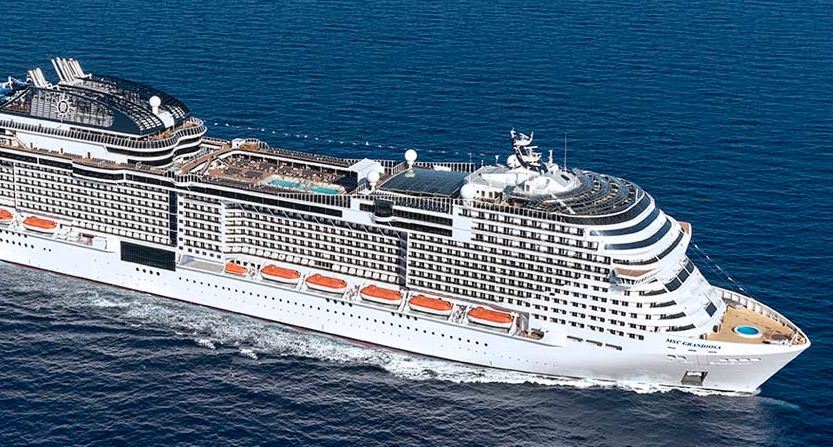 MSC Grandiosa offers even more public space than her sister ships, along with a series of exciting innovations. The extraordinary design, wide array of facilities and entertainment make these ships ideal for the whole family.

At the heart of MSC Grandiosa is a breathtaking indoor promenade covered by a dramatic LED dome. It is home to superb shopping options, an extra-large and super-friendly French bistro, and more exciting venues to welcome all our guests.

MSC Cruises
After 300 years at sea, we know the treasures that lie off the beaten path. Our cruise experiences are designed to delight and inspire curiosity so that together with travelers from all over the world, our guests can explore the secrets of the Caribbean and beyond.
MSC Cruises is the world's fastest-growing cruise line, sailing to more than 200 destinations around the world, offering an enriching and immersive cruise experience inspired by our Euro
...
| Day | Port | Arrive | Depart |
| --- | --- | --- | --- |
| 1 | Civitavecchia, Italy | | 6:00 PM |
| 1 | Civitavecchia, Italy | | 6:00 PM |
| 1 | Civitavecchia, Italy | | 6:00 PM |
| 1 | Civitavecchia, Italy | | 6:00 PM |
| 1 | Civitavecchia, Italy | | 6:00 PM |
| 1 | Civitavecchia, Italy | | 6:00 PM |
| 2 | Palermo, Italy | 10:00 AM | 5:00 PM |
| 2 | Palermo, Italy | 10:00 AM | 5:00 PM |
| 2 | Palermo, Italy | 10:00 AM | 5:00 PM |
| 2 | Palermo, Italy | 10:00 AM | 5:00 PM |
| 2 | Palermo, Italy | 10:00 AM | 5:00 PM |
| 2 | Palermo, Italy | 10:00 AM | 5:00 PM |
| 3 | Valletta, Malta | 9:00 AM | 5:00 PM |
| 3 | Valletta, Malta | 9:00 AM | 5:00 PM |
| 3 | Valletta, Malta | 9:00 AM | 5:00 PM |
| 3 | Valletta, Malta | 9:00 AM | 5:00 PM |
| 3 | Valletta, Malta | 9:00 AM | 5:00 PM |
| 3 | Valletta, Malta | 9:00 AM | 5:00 PM |
| 4 | At Sea | | |
| 5 | Barcelona, Spain | 8:00 AM | 6:00 PM |
| 5 | Barcelona, Spain | 8:00 AM | 6:00 PM |
| 5 | Barcelona, Spain | 8:00 AM | 6:00 PM |
| 5 | Barcelona, Spain | 8:00 AM | 6:00 PM |
| 5 | Barcelona, Spain | 8:00 AM | 6:00 PM |
| 5 | Barcelona, Spain | 8:00 AM | 6:00 PM |
| 6 | Marseille, France | 9:00 AM | 5:00 PM |
| 6 | Marseille, France | 9:00 AM | 5:00 PM |
| 6 | Marseille, France | 9:00 AM | 5:00 PM |
| 6 | Marseille, France | 9:00 AM | 5:00 PM |
| 6 | Marseille, France | 9:00 AM | 5:00 PM |
| 6 | Marseille, France | 9:00 AM | 5:00 PM |
| 7 | Genoa, Italy | 8:00 AM | 5:00 PM |
| 7 | Genoa, Italy | 8:00 AM | 5:00 PM |
| 7 | Genoa, Italy | 8:00 AM | 5:00 PM |
| 7 | Genoa, Italy | 8:00 AM | 5:00 PM |
| 7 | Genoa, Italy | 8:00 AM | 5:00 PM |
| 7 | Genoa, Italy | 8:00 AM | 5:00 PM |